Constellation Brands Performing Arts Center Information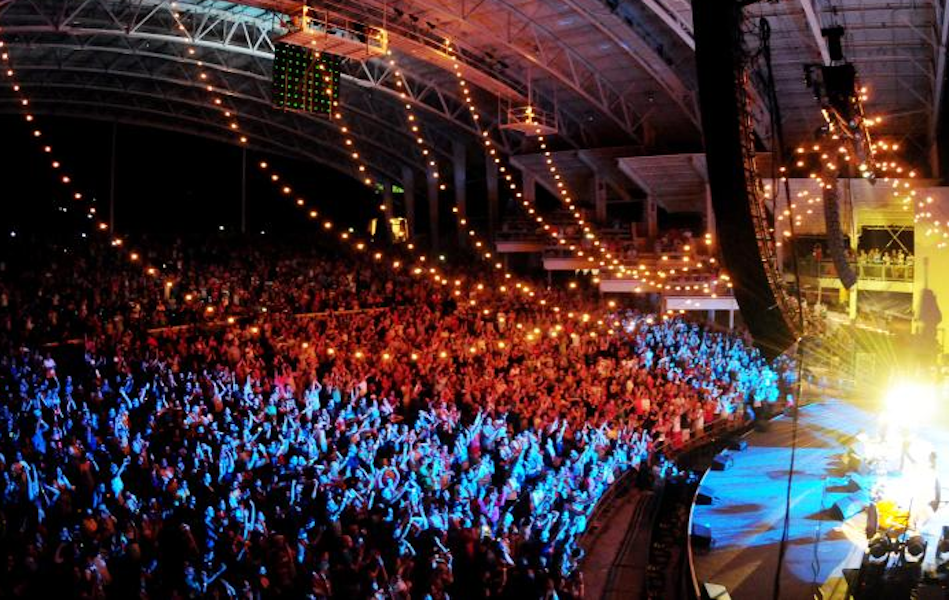 The Constellation Brands-Marvin Sands Performing Arts Center (CMAC) is an outdoor concert venue in the Town of Canandaigua, New York. The venue first opened in 1983 with a unique design that blended open-air roof seating and hillside lawn seating that looked down into the facility. The venue became known early on as being the home of the Rochester Philharmonic Orchestra as well as for their management company, SMG, who was also responsible for handling the Blue Cross Arena in nearby Rochester, New York.
The first renovations came during the 2005-06 seasons at the cost of about $13 million that added 54 elevated luxury booths (seating capacity of 4 per booth), expanded the general seating area under the amphitheater roof from 2,600 to 5,000 and installed new house lighting and sound systems. These renovations modernized the, then aging venue, so it could serve as an ideal home for concerts and musical events. It remained to that purpose to this very day.
The center's name comes from Constellation Brands, a total beverage alcohol company and Marvin Sands, founder of the Canandaigua Brands winery who supported the venue due to its role in supporting arts and culture in the Canandaigua community. CMAC has since played host to sold-out shows by hallmark performers including Dave Matthews, Bob Dylan, Ringo Starr, Kid Rock, Snoop Dogg, and others.
These feats and more have earned CMAC recognition as a premier performing arts venue.
For more information on the Constellation Brands Performing Arts Center see the pages below:
Constellation Brands Performing Arts Center Parking:
For parking information and satellite navigation tips for the Constellation Brands Performing Arts Center .
Ticket Policies:
For ticket guarantees, ticket verification and refund policies.
Constellation Brands Performing Arts Center Seating Chart:
For Constellation Brands Performing Arts Center seating map and seating information.